'This has changed my life': Chuy's customer shares kids' meal hack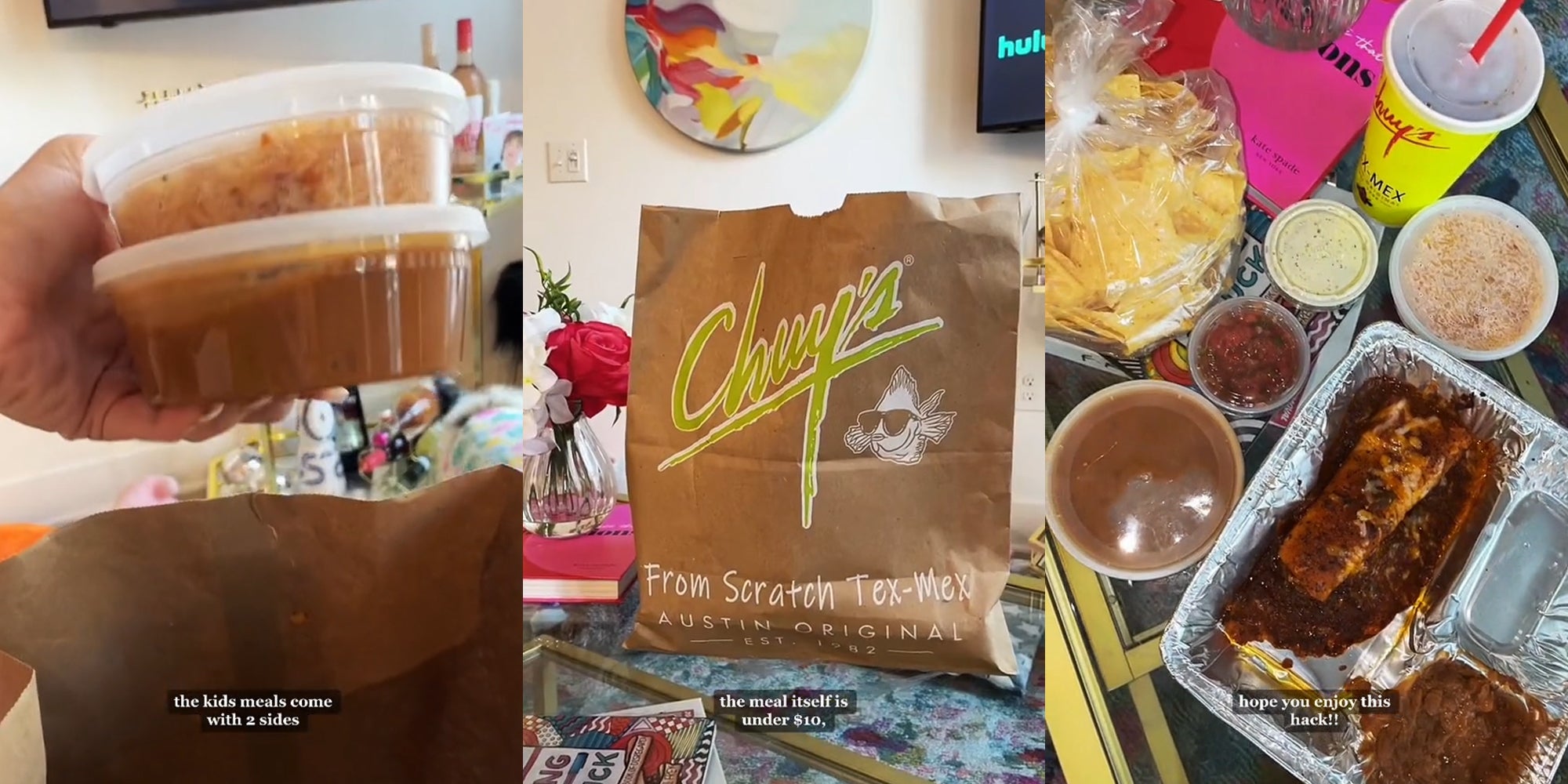 'This has changed my life': Chuy's customer shares kids' meal hack https://ift.tt/o06cm5Q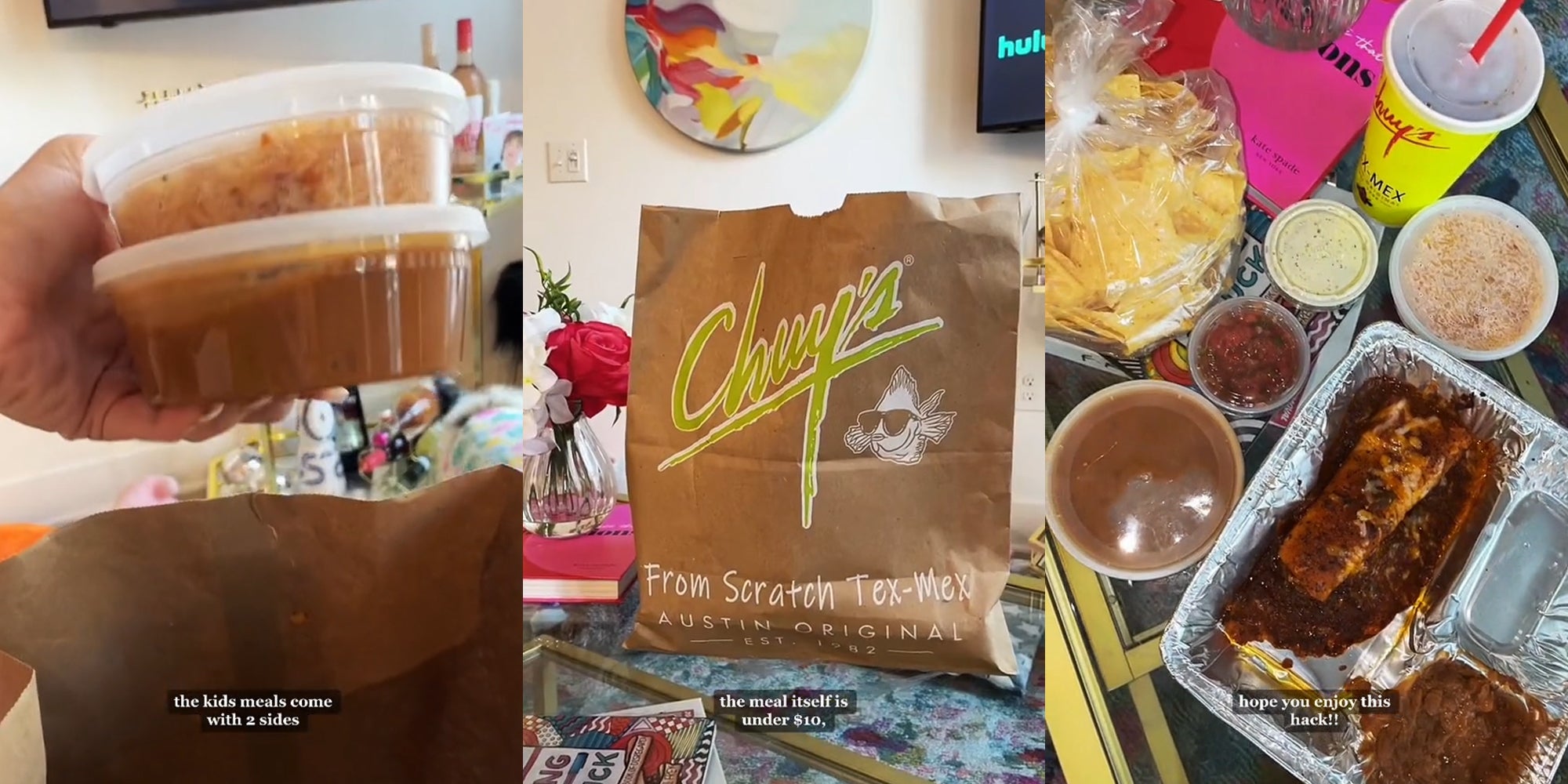 A TikToker shared a kids' meal hack from Tex-Mex chain restaurant Chuy's, claiming it provides "so much food" for those watching their food budgets.
The video was posted on TikTok by Texas-based creator Breahn Fisher (@breahn_fisher), gathering more than 155,000 views since its first day on the platform.
"I want to share with y'all my Chuy's kids' meal trick, which gets you so much food," Fisher said to begin her video.
The Texas-based chain restaurant, which started in Austin in 1982, according to the company website, but spread its wings beyond the Lone Star State in 2009.
"I do this all the time and usually order pickup because there's one right by my apartment," she said. "The meal itself is under $10, plus if you want to drink. All to-go orders come with a bunch of chips plus salsa and creamy jalapeño. The kids' meals come with two sides. You have a choice of rice beans, mac and cheese or fries."
"I usually order an extra side of rice for $2 because I love it so much," she added. "Last thing: Don't order pickup through Uber Eats; they have kids meals listed as $8, whereas on the Chuy's website, they're listed at $6.67."
She finished by saying, "Hope you enjoy this hack" — and, indeed, some did.
"This has changed my life!" someone declared.
"The creamy jalapeño makes it all worth it," said one commenter in the know about the popular Chuy's chip dip.
"Just need a gallon of that," the creator concurred.
But there was also a range of feedback you might generally classify as less than glowing.
"I need kids' meals that feeds 2 adults 2 kids, lol," said a commenter with high aspirations for kids' meals.
"Y'all need to stop making these videos cause restaurants are catching on," one advised. "[You're] ruining it for [yourself] and others."
One wondered about the real value of the hack, asking "Is this really a hack? Seems like you're just ordering a kids' meal with an extra side."
Another had issue with a part of the video where the creator's dog licked the side of the Chuy's cup — not really germane to the hack discussion, of course, but probably worth visiting all the same.
"Letting a dog lick on the cup that you're about to …. never mind," a commenter pointed out. "I can't do this today."
Someone responded, "Oh, I didn't know you drank from the side of the cup? You must be one of the weird ones."
That commenter snapped back, "Sweetheart, you wrap your hand around the cup to drink from it WHILE eating. The fact that I have to spell this out for you says a lot. Bless your [heart.]"
The Daily Dot has reached out to the creator via TikTok comment and to Chuy's and Uber Eats via email.
Sign up to receive the Daily Dot's Internet Insider newsletter for urgent news from the frontline of online.
The post 'This has changed my life': Chuy's customer shares kids' meal hack appeared first on The Daily Dot.